Get live surveillance of your home 24/7.
We always leave a portion of ourselves at home every time we go out. The hope that nothing bad happens at home and the worrying will always be there. It¡¯s a good thing that the advancement in technology has lead to the discovery of surveillance cameras.
If you want to get updated on the happenings in your household, use this 1080P HD Mini-Remote Surveillance Camera. It¡¯s literally a small yet incredibly useful device. No more worrying about the family members or valuables that you left at home. You get to check on them through live surveillance anytime, anywhere.
Be updated 24/7, all you need is to download and connect the right app. This directly connects you to the surveillance camera and gives you access from the camera¡¯s POV. This does not only work for people who leave their houses for work, school, or errands, it also works for families with kids. This device provides relief to parents as they can watch their kids from other rooms in the house.
Absolutely useful and cost-efficient!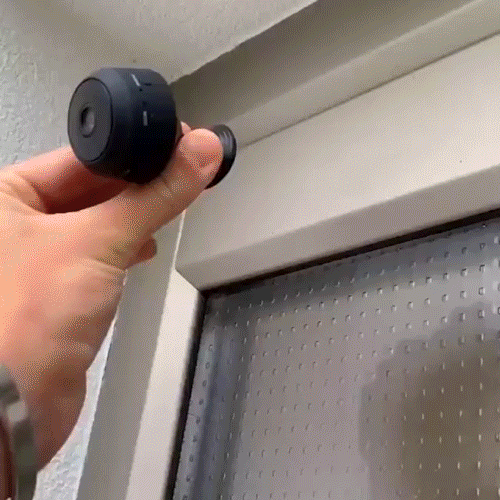 Modernly built with a mini-sized HD camera with a 150¡ã wide-angle view to ensure clear and maximum view. The camera also features a super clear night vision. It¡¯s equipped with small infrared lights that enable it to capture a clear view even in the dark. Unlike other surveillance cameras, the infrared lights from this one are hidden, they don¡¯t flash visible red lights in the dark.
This high-tech camera also has motion detection capabilities. With advanced technology, it has a built-in sensor that detects movement and pushes a notification with images. These notifications are then sent to your mobile device through the app you connected.
Security at its finest.
It features an amazing two-way audio option. With a built-in microphone and speaker, you can send voice messages from your mobile device to the camera, or vice versa. How convenient?!
It¡¯s powered by a built-in 2500 mAh battery which lasts up to 56 hours of use. Can be charged when plugged into a USB charger or power bank. When plugged in, it can function 24/7.
This camera is compact, you can keep it hidden anywhere. It¡¯s super easy to install too. With the magnet attached to it, you can stick it onto metal and iron surfaces in your home, car, office, and others. The package also comes with a mount that allows you to put the camera elsewhere, like walls, ceilings, and the like.
This is a total must-have!
Specifications:
Material: ABS Plastic & others
Resolution: 720P, 1080P
Frame Number: 50 fps
Video Compression Standard: H.264
Audio Compression Standard: G.711a