GYMS ARE CLOSED - Working Out Is About To Change
Impacted by gym closures? Don't let that stop you. Working out from home has never been easier with resistance training.
Get a full-body workout, without needing to go to the gym or investing in bulky, expensive fitness equipment.
The days of being restricted to your old workout bench are over.
You can now get real results without all that oversized equipment and without spending time and money going to the gym.
FULL BODY WORKOUT IN THE PALM OF YOUR HAND
Introducing the NEW Flexi? 11PC Resistance Bands Set. The perfect home gym companion. With a wide range of exercises to choose from, you will be able to target every major muscle group in your body.
Workout in the comfort of your home. Perfect for a full-body workout or for quick sessions, the Flexi? Resistance Bands are very versatile and convenient.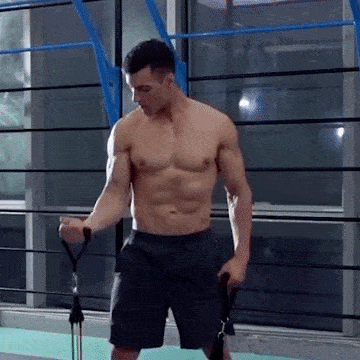 NO. 1 AT HOME WORKOUT KIT
Versatile

with dozens of exercises to choose from. These resistance bands are sure to make you sweat.
Feel The Burn with 5 levels of resistance and stackable from 10 - 100 lbs.
Attaches Easily To Any Door with the provided door anchor. You can easily attach the bands to your door in under a minute.
WORKOUT ANYWHERE, ANYTIME
BEGINNER OR EXPERT READY
It doesn't matter if you are just starting out or if you are an expert workout enthusiast, these versatile resistance bands will empower you to meet your training goals faster and more effectively- anywhere and anytime!
HAVE A DOOR IN YOUR HOME?
With the quick slip-on door anchor you'll be ready to get started in under a minute.Also, our handles are very comfortable, and non-slip, so you can just focus on getting a good workout.
100% ECO-FRIENDLY NATURAL LATEX
The NEW Flexi? 11PC Resistance Bands are made for maximum resistance. The high quality 100% eco-friendly natural latex material is designed for even the heaviest of workouts. They have quality metal hooks with double tapered seal ensuring longevity.

Storage and Care Instructions
Storage keep out of direct sunlight, heat and moisture to extend the lifetime of the latex material
Made To Last bands can stretch to a maximum of 3x their length
Clean with a wet cloth, avoid any cleaning products so that it doesn't damage the latex material and weaken the bands
Keep bands from any sharp or abrasive surfaces to avoid any damage to the latex
Flexi? 11PC Set Includes
5 x Resistance Bands
1 x Door Anchor
2 x Handles
2 x Ankle Straps
1 x Carrying Case
100% Satisfaction Guaranteed
This purchase comes with a 100% Satisfaction Guarantee, if for any reason you are not satisfied with your purchase, you may return it for a full refund.
NOTE In light of the world wide pandemic situation, please be assured that as a responsible supplier we are focused on the health and safety of our team and the continuity of supply to our customers. We want you to SHOP WITH CONFIDENCE and know that we are taking every precaution at our end. And we are still shipping orders everyday and they are being delivered without delays. Also please note that according to the World Health Organization the virus can only last on some surfaces a maximum of 72 hours and our delivery times are 5-17 business days. All our packages are sanitized prior to shipping, so again we urge you to SHOP WITH CONFIDENCE when it comes to our products.