Pump up your Halloween game with matching hair ties.
Hair ties are definitely essential. We have good news for you! We got the best and most timely Halloween Ornamental Hair Ties in the market today. Perfect for the up and coming dark and scary Halloween season of the year.
These hair ties come with either skull or crow ornaments. They¡¯re absolutely minimalistic yet beautiful. Get ready to rock Halloween with a badass bun with these hair ties.
Perfect for your Halloween look!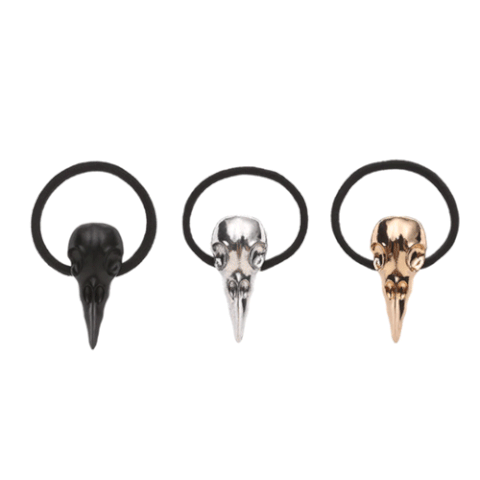 Specially made with high-quality materials to ensure quality and durability. These hair ties are safe and non-toxic. Equipped with ultra-elegant elastics that do not easily fall off your hair. Provides enough tension to your hair for that tidy ponytail look.
They¡¯re stretchy enough, which is great for both thin and thick hair. Despite the strong grip, these are gentle on your hair. Does not cause damage at all. Made with soft materials that do not leave creases on your hair.
The unique ornaments help you feel the Halloween vibe. Keeping you pumped up for the Halloween celebration. Absolutely noteworthy!
They¡¯re super soft and gentle on your hair. Suitable for daily use, even when Halloween is over. The ornaments make the hair ties unique and attractive. Makes you look cooler than ever.
Comes in different colors and styles. Fits both kids and adults. This hair tie is an absolute must-have!
Specifications:
Materials: Rubber, Alloy, Cotton
Ornaments: Crow, Skull
Size: Free Size (Fits most users)