Organize your bags in a

fashionable

way.
Bags are precious and expensive. Like most of our stuff, they should be given proper care. With our 3-Layer Folding Shelf Bag, your bags are safe from dust and the typical wear-and-tear.
Equipped with 6 compartments, large enough to fit your handbags, purses, totes, and more. It features a two-sided opening to allow the items to breathe, keeping them fresh and brand new. That also helps you to store more items in one compartment and easily take what you need. Specially made for your convenience.
It is made with fine non-woven fabric to ensure quality and durability. The pockets are made with premium transparent PVC for easier access. This caddy is completely washable, does not shrink. It¡¯s durable and dustproof, made to last for years.
Using this bag shelf will save you more space for other stuff. It¡¯s equipped with a high-quality and rustproof hook that enables you to hang it in your closet, wardrobe, car, and many others. This makes it portable too, allowing you to bring your personal items in an organized and fashionable way wherever, whenever.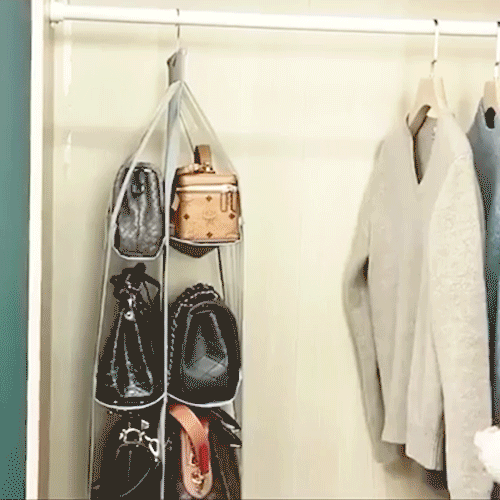 This multi-purpose rack can also be used to store other items, like towels, sandals, beauty products, and many others. Each pocket is big enough to store more items for proper organization. Value for money.
Free your closet from clutter, use this 3-Layer Folding Shelf Bag.
It¡¯s easy to use and clean. Although it is safe to wash it, you could also just wipe it to keep it clean. It¡¯s a modern and stylish design that makes it suitable for any room in the house. It¡¯s lightweight and foldable too, allowing you to properly store it when not in use.
An organized life starts with an organized closet, get yourself one today. This makes a perfect gift for friends and loved ones too!
Specifications:
Material: Non-woven Fabric, Clear PVC
Size: 90 x 35 x 35 cm