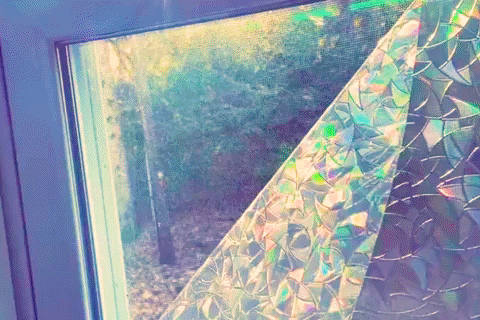 This incredible 3D window film creates a
beautiful rainbow effect
as sunlight shines through. It's a gorgeous and unique decoration for any home and is an affordable alternative to other expensive options.
In addition to its beautiful effect, the 3D Rainbow Film reduces sunlight glare, blocking out 84% of UVB rays,
helping to protect your skin, furniture, eyes, and TV screen
from sunlight exposure. It transforms exposed light into a soft atmosphere
Universal Fit For Multiple Window Styles

Medium is Sized For 2-3 Windows
Large is Sized for 4-6 Windows
FEATURES:
The Beautiful 3D Rainbow Effect




UV Light Control:
Block UV light coming through, helping to protect your skin and regulate the heat in your home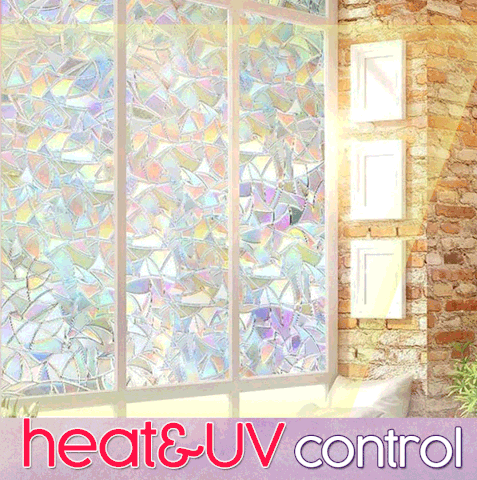 Multiple Effects:
As shifting as the seasons, different levels of natural light completely change the effect!
Enhanced Privacy:
Increased privacy. Beautify your home without shutting out the light and keeping your private life, private.



No Adhesives:
No Residue and no damage. Simply stick on and re-apply



Easy To Install:
Measure Windows & Trim Rainbow Film
Clean Glass
Wet the Window Glass
Remove the Rainbow Films Back Cover
Install to Glass
Squeeze out the Air Bubbles with Credit Card
SPECIFICATIONS:
45 x 100 cm = Small
45 x 200 cm = Medium
45 x 400 cm = Large