The processing time for orders is generally 1-3 business days
Once your item/s is dispatched, the estimated delivery time is: 5-15 business days

Smooth painted walls are everyone¡¯s favorite but the mess which is left behind could be exhausting!
Forget messy rollers and paint spills, 8 PCS Paint Roller Kit is the quicker, easier, more precise way to paint any wall faster without creating a mess!
The revolutionary paint roller has a 1L chamber to fill paint and holds 5X more paint than a conventional roller head and works great on any surface, texture or smooth. With no-spill design, this roller keeps the paint off the floors and on the walls with professional results every time!
Whether you are a painter, graffiti artist or Just planning to paint your house on your own, 8 PCS Paint Roller Kit could be the best painting partner for you.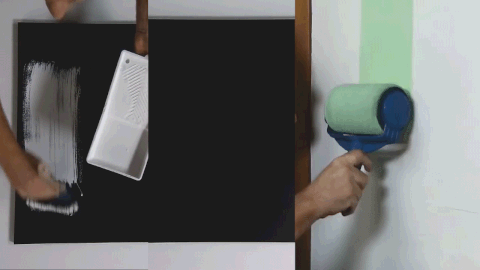 FEATURES:
All in one Set, Professional finish: The 8 PCS Paint Roller Kit includes almost every tool that you need for painting. The roller works amazing on every type of textures and glides smoothly on the corners. Now, paint your house or create graffiti without any mess.

Different sizes brush for perfect paint every time:

The kit comes with different sizes of brush to meet your every need. The big roller can be used to paint large surfaces like walls, ceiling whereas the medium size is perfect for painting door frames or Window sills.




Now you don¡¯t have to worry about corners, the small size brush is specifically designed to provide smooth and even finish on corners and edges.

8 PCS Paint Roller Kit is perfect for both indoor and outdoor use, just pick the one that you need and get going.
Spill-proof design and Extension Rods: The roller has a spill proof design for your convenient use. Just pour in the desired paint, snap on the lid and Paint. It leaves no spills behind.
The set comes with 3 extension rods. Now no more climbing ladders to reach height, just attach the roller to the rod and paint the entire war like a pro.


Premium Quality and cost-effective: - With 8 PCS Paint Roller Kit you need, No prep time, NO drop sheets, NO tape masking. Just pour and paint and brighten up any space.
The brush is made of superfine material. Simply wash it after the use, dry it and store in a cool dry place.
Easy to use
PACKAGE INCLUDES
1 * Roller
1 * Paint Bucket
1 * Resting Tray
1 * Wheel Brush
1 * Corner Painter
3 * Extended Rods