Are You Sick & Tired of Closed Gyms Due to This Pandemic? Keep Reading For The Perfect Solution...
There's nothing more frustrating than losing your progress and gains due to closed gyms. On average, it takes about 3 weeks of inactivity to start losing muscle gains. This means??that all the hard work you've put in the past year will soon start fading away!
But don't worry, we've got you covered. The Hardio??¡é Workout Resistance Bands were made specifically for a time like this. Now you can continue your workout & get the same results from the comfort of your home.
That's right! No more spending an hour of commute to the gym or running around asking everyone, "How many sets do you have left?" just to get your workout in. With the ability to perform all your favorite exercises at home, you'll be glad the gym is closed!
See it in action below:
The HARDIO? Fitness Exercise Bands is specially designed to enable more than 150 different exercises and a wide range of resistance/weight, so you can work any muscle group in the body in countless ways, and get the results (and look you want quickly and effectively, from the comfort of your own home.

WIDE RANGE OF WEIGHT - These elastic stretch bands set includes 5 straps of varying resistance, which allow you to mix and match to get your desired weight level - from 10 lbs (4.5 kg and up to 150lbs (70kg), suitable for someone just starting out or an experienced gym rat.
COUNTLESS EXERCISES - specially designed and includes all the necessary accessories for more than 150 possible exercises for all muscle groups - suitable for any fitness level. Whether you want a complete body workout, or to work on just one muscle group at a time, these stretch bands set is the perfect solution.


EASILY SET UP IN SECONDS - with the included Door Anchor, handles and ankle straps, you can set up the Hardio? Workout Bands??in seconds. Just choose your desired exercise, set up accordingly, and start your workout.

GET THE RESULTS YOU WANT - the weight range is perfect for getting the results you want, whether you are looking to build body mass, tone your muscles, or burn body fat.

WORKOUT EVEN IF YOU CAN'T FIND THE TIME - Have only a few minutes a day, or having difficulties finding the time to work out? No problem! Because of the accessibility and quick and easy setup, these fitness resistance bands allow you to do a few quick sets whenever you have time and go on with your day.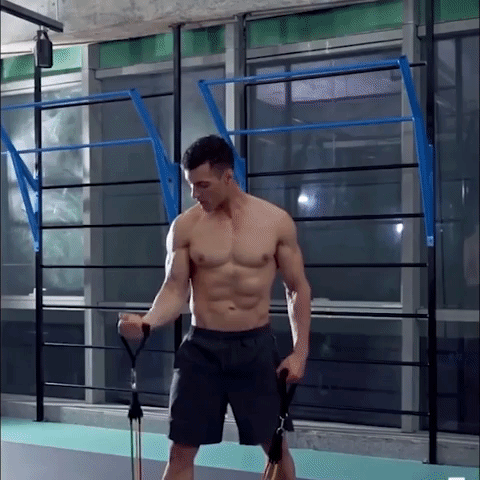 SAFE AND EFFECTIVE - the smooth movement and consistent resistance give great results while minimizing the chance for injury.
COMPACT AND PORTABLE - easily and compactly folds up for easy storage.

WORK OUT AWAY FROM HOME - fold and store the set in the included carry bag and take it with you when traveling, for the office, or anywhere else. Now you can work out even when you're away from home! Hardio? Exercise Bands makes it easy to have a quick workout in the office at the end of the day before heading home or maintain your fitness on your business trips.

STRONG AND DURABLE - LIFETIME GUARANTEE! - made of strong and durable materials and built to last. We don't believe you will, but if at any point you will have any quality issues with the set, we will replace it at no cost!
Take your life back TODAY and skip all the frustration of closed gyms with Hardio?
*LIMITED STOCK AVAILABLE*
Scroll Up & Click 'ADD TO CART' Before They're All Gone