This manual vegetable slicer is your all-in-one kitchen tool that is a must-have for every kitchen. It can slice, dice, chop and julienne all your favorite vegetables and fruits. You can cut your favorite vegetables, such as carrot, cucumber, sweet potato, radish, etc into your favorite shapes.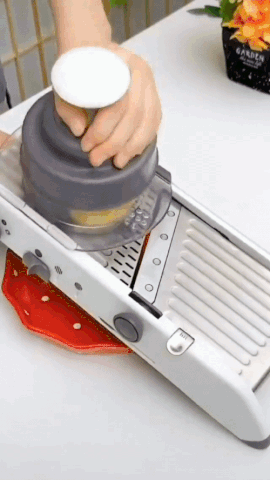 ¡¾SHRED¡¿can cut 2.2mm-5mm all kinds of vegetables, can also cut 5mm-10mm of various thick and thin potato strips, usually homemade stir-fry, potato silk, all kinds of vegetables in the blink of an eye to getting effortless

¡¾SLICE¡¿It can cut 1.8mm-6mm vegetable slices of various thicknesses, cut bamboo shoots, cut cucumbers, cut radishes, and other ingredients. You can convert the vegetable slices of different thicknesses with a twist so that you can easily cook.

¡¾CUT FLOWERS¡¿Cut all kinds of flower-shaped dishes, cut bamboo shoots, cut potatoes, cut radish, and other ingredients, lightly twist to achieve different patterns of different thickness of flower dishes

¡¾SAFE PUSHER IS SAFER¡¿ Scientific and humanized safety pusher, safety protection hand is not injured so that cutting vegetables are not dangerous, the design of the fixed plug, cutting vegetables will make it easy for you to cope with any long strips of vegetables

¡¾ENVIRONMENTALLY FRIENDLY NON-SLIP HANDLE¡¿ ergonomic PVC environmental protection handle, hand-fitted with stainless steel frame, strong and solid, fine workmanship, fixed bolt design, cutting vegetables will make it easy for you to cope with any long strip of vegetables
Specifications:
Material: Stainless Steel
Blade Length: 170mm

Product weight: 1.0250 kg

Package size (width x height x height): 1.00x1.00x1.00 cm / 0.39x0.39x0.39 inches
Package Contents: 1 x Multi-Purpose Vegetable Fruit Cutter, 1 x User Manual