An innovative tool designed to make your next job quicker and more easier. No more ladders no more hours or days of cutting in with a brush or shield with the airless spray guide clean lines are yours and minutes with the roll of the wheel. A good painter knows that controlling your overspray is the key to a great paint job the airless paint spray guide creates an absolutely clean and perfect line and you'll never have to worry about overspray. With the use of spray guide there is just no way any ladder or brush crew could keep up. Seems too good to be true check out the video above where over 25 feet done in less than 10 seconds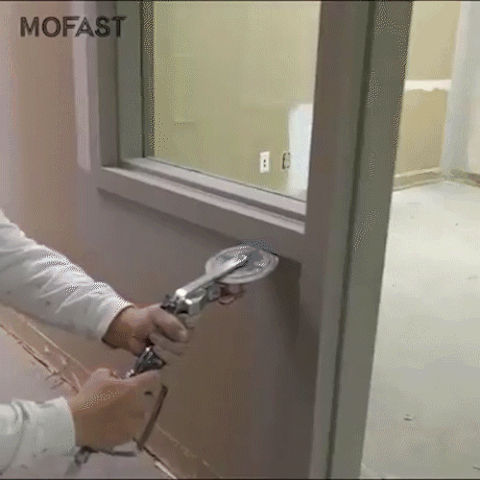 The AIrless Spray guide is so easy to use. Just attach the spray guide to the angle head, adjust your spray tip to adjust fog. The tip of the wheels then run it along the spraying area to get the feel of the surface when you're comfortable pull the trigger and keep moving.The Airless Spray Guide is so versatile use it wherever you find a running edge
Features:
Paint gun equipped with an airless 315 sprayer nozzle for your convenient use.

Easily spray right up to the edge without tape or shield. The head of paint spray gun and baffle are adjustable.

Fits most spray guns that are 7/8", adopted the quality Tungsten Steel, good workmanship, solid and durable.

The material of electric paint sprayer is Tungsten steel

Maximum Pressure of airless sprayer Tip(315): 34.5MPa/5000PSI/345Bar.

Our air paint sprayer consists of three colors (Red, Black, and Silver).

The accessory tool is specially used for wall color separated spraying, and create a clear colors wall spraying effect.

Use the tool to extend long pole sprayer nozzle, the baffle can avoid wrong spraying due to paint splash.