KEEP YOURSELF AWAY FROM ALL THE KITCHEN STRUGGLES!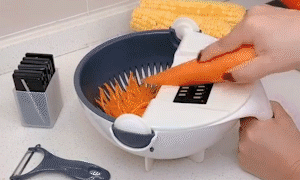 The new 2019 All-in-One Chopper Strainer with a unique drainage feature that allows you to clean vegetables directly through the drainage system after you've cut them. Skip the tedious cleaning process and make your cleaning easie.
Features:
Upgraded All-in-One design: Combines functions of julienning, slicing, grating fruits and vegetables with the use of 7 different blades including 3 julienne peelers, 2 slicers, 1 grater and 1 crinkle cutter.
Built-in Auto Rotate Strainer: Extremely time saver and convenient that it allows you to cut and strain right away. Best of all, it can be used as a vege and fruits basket as it is detachable.

Ultra Safe: The handle is designed as anti-slip surface, to make sure it can be hold stably just with one hand, and comfortable hand guards that securely gripped foods and keep your fingers away from blades.

Large Capacity: Able to deal with a batch of vegetables with capacity up to 2000ml.
Detachable Blades: All blades are removable for easy cleaning and switching between peeling modes.
Package Included:
1 x All-in-One Chopper Strainer

3 x Julienne Peeler Blades (2mm, 3mm, 4mm)

2 x Slicers Blades (1.5mm, 2.5mm)

1 x Grater Blade

1 x Crinkle Cutter Blade

1 x Hand Guard

1 x Peeler
Estimated delivery time 7-14 days