Protect your kitchen countertops and walls from oil stains with our

Protective Kitchen Adhesive Film

!

It was designed not only to protect your kitchen, but also to protect your drawers, cabinets and shelves from dust and dirt, to organize your appliances in an elegant self-adhesive aluminum layer and to

make it easy to clean all smooth surfaces

!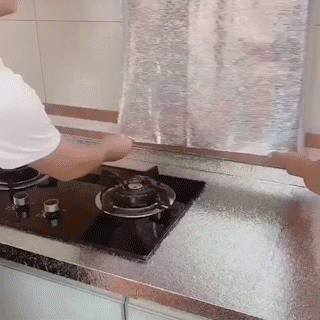 Make your kitchen and home a healthier place! Made of premium aluminum to provide 100% efficiency. Have a durable and resistant adhesive to use on all surfaces of your kitchen !
perfect kitchen protection

grease and dust proof:

prevent dust and grease from staining and spreading throughout your kitchen, including cabinets, stoves, counters and walls

waterproof, mildew resistant and fire resistant:

prevents water from seeping into the sink and other areas and prevents the formation of mold

temperature resistant:

withstands up to 250oC, can be used for a long time without deforming

easy to cut to the required size:

just measure the dimensions of the surface to be adhesive, cut on the demarcated lines, remove the back layer of the adhesive and that's it

easy to apply and remove, this aluminum adhesive is made for your convenience

self-adhesive:

the removable back film has cut lines that make it easy to measure and position, create new decorations or make repairs on any smooth surface

versatile:

explore versatility, apply to cabinets, countertops, TV stands, dining tables, cupboards, dishwashers, refrigerators, etc.

very easy to clean:

wipe with a damp cloth or wash with soap and water
How to use :
surface must be clean and dry with water and mild soap, ensure that the surface must be flat and without grooves

cut the sticker to the size you want

use a dish towel or card to remove any air bubbles
do you spend hours in the kitchen cleaning
dirt
that is almost
impossible
to remove?
If you are that person, you will never want to be without the anti-oil adhesive.

The newest technology made for you who want to optimize your working time and remove dirt in a simple and practical way.

The adhesive has an
anti-flame and anti-impermeable surface, making the product's lifetime last for years.
What if you could avoid
bacteria
and
fungi
in your kitchen?
The Anti Oil Adhesive was produced to meet the requirements of food safety, preventing bacteria from staying in the applied place and bringing more food security.
OIL AND DIRT PROOF ADHESIVE
Title:

 Waterproof cooking oil-proof adhesive

       

Width X Length 

Sizes: 0.60x100cm 

  


Sizes: 

 

0.60x200cm 




Sizes: 0.60X300cm 

Packaging:

 Oil-proof waterproof label