Due to high demand, shipping times are estimated between 12-20 days.
-----------
When you can't be bothered to crack your own eggs, you need a device that just does it for you! That's just what this automatic egg cracking device does. It takes the stress, mess, and hard labor out of the egg cracking!
To use it, just insert an egg into the two white circles that hold it in place, then just pull the trigger on the handle and an arm will come down from the top to hold it in place, along with 2 separating razors on the bottom of the egg that pull it apart. The contents of the egg will then drop into the bowl placed below.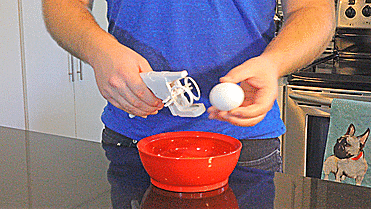 The automatic egg cracking tool even comes with an add-on that lets you just drop-in the egg whites. A platform below the egg cracker will hold the yolk in place while the egg whites fall freely in your cooking bowl.
The automatic egg cracking gadget is made from plastic injected molding along with stainless steel blades that separates the egg shell. It has a hole on the end of the handle to easily hang it in your kitchen, and an ergonomic handle makes it super quick and easy to use.
Once your done, just flip the empty egg shell into a trash bin, and either add another egg into the cracker, or rinse it off and toss it into the dishwasher, as it's dishwasher safe.
Automatic egg cracking tool
Cracks egg quickly and cleanly
Uses razor on the bottom to separate egg shells
Has optional egg white separator attachment
White in color
Made from plastic and stainless steel
Dishwasher safe