Drive Safe, Live Longer
NOW YOU CAN CHARGE YOUR PHONE, GLANCE AT YOUR GPS, RECEIVE HANDS-FREE CALLS, ALL WHILE KEEPING YOUR EYES ON THE ROAD.
?Our Automatic Sensor Car Phone Holder and Charger are packed with exclusive high-speed wireless charging technology and provides safe and fast charging.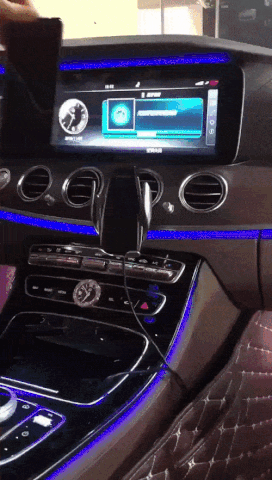 Safe And Easy: Charge your phone wirelessly as you drive, enjoy hands-free calls, and make your GPS directions easier to follow.

10W Fast Charging: High efficiency charging with our upgraded Qi coil so you can enjoy a faster charge than other wireless car charger mounts in the market.

Infrared Auto-sensing & Single-handed Operation: The infrared auto-sensing area detects when you place your phone in the holder and automatically closes to secure it!

Air Vent Phone Holder Mount: No tools needed! Install our mount easily to your vehicle's air vent, making your phone easily accessible without distraction.
Intelligent Car Finding Function: Use your mobile phone scanner to download the iPark APP in the manual so that you can find your car easily.
COMPATIBILITY: Works with most smartphones, regardless of size or shape. Wireless charging for Qi-enabled and Quick Charging devices only.

APPLICATIONS: You can securely install this phone holder on almost any vehicles air vents with a hassle-free mounting that is managed in seconds, with absolutely no tools required

QUALITY MATERIAL: Anti-scratch & anti-slip rubber material base padding for a secure and safe grip, allowing for a worry-free trip.
Specification:
Wireless Charging Standard: Qi
Net Weight: About 254 g
Input: DC 5V/2A: 9V/1.6A
Charging Distance: ¡Ü10m
Charging Efficiency: ¡Ý76%
Adjusts from

4.0"-6.0"
What you get:
1 x Smart Wireless Car Charger Holder
1 x USB Cable