Having back pain all the time? Eliminate that in just 5-10 minutes a day!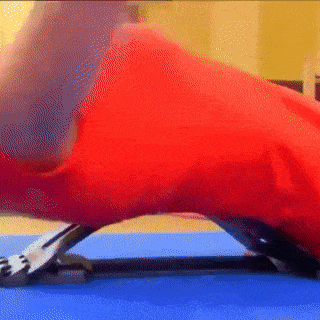 BackRight Back Stretcher is a lightweight multi-level back stretching device that enables you relax and immediately relieves back pain due to tight muscles, excessive flexion, and poor spinal alignment.Anyone with back pain knows how much Physiotherapy, Chiropractic, and Massage can cost.
For less than one fifth the cost
of just ONE of these treatments, you can receive the lifelong benefits of our Adjustable Back System.
Brand new Award-winning back relief product (Aug 2019)
Using this little gadget periodically throughout the week loosens up my lower back and ease the aches and pains associated with my back.
- Keith, UK
BENEFITS✔?Mitigates chronic back pain✔?Corrects postural imbalances✔?Restores the natural curvature of the back ✔?Improves flexibility in shoulder and back muscle✔?Alleviates Herniated, Bulging Disc Pain, Spinal Stenosis, etc.
3 STRETCH LEVELS
20 ACUPRESSURE NODES
94 ACUPUNCTURE SIMULATORS
FAQs:
Is it suitable for my height?
Both the BackRight models are 'one size fits all', which means that they just fit no matter how tall you are. Hust ensure you feel comfortable when putting it under your back.
BackRight Non-padded or BackRight Padded?
Both models work excellently and do the same job. Simply, if you want a cushioned feel for a more comfortable stretch, along with the acupressure effect, go for BackRight Padded. But if you don't mind the hardness and the pressure nodes, you might go for the non-padded version.
How do I use it?
Lay the stretcher on the ground, arch side up.
Make sure it¡¯s adjusted to fit your height. We recommend starting low. Use help if you aren't able to set it up alone.
Slowly place your lower back down followed by your upper back.
Place your arms over your head and stretch out.
Feel the massage and relax!
How long should I use it for?
We recommend using it for 5 minutes up to 2 times a day for beginners. You may increase your session length once you get used to it.
Material: ABS PlasticBase size: 14.5" * 10" * 1"
CLICK ⬆" ADD TO CART "⬆ BUTTON TO SECURE YOURS!
🌏 FREE WORLDWIDE DELIVERY ✈
We provide FREE Insured Worldwide Shipping so that you as a customer get 100% satisfaction. Please Read shipping policy for estimated arrival dates. Depending on the location, shipping normally takes eight to twenty two days to reach.
BackRight is a perfect complement to your medication or therapy routine, not a replacement to it. If in doubt, please consult your doctor before using.
Disclaimer:
The results can vary for different individuals