✨✨Bear Claw Meat Splitter
😎These versatile meat claws prevent dirty hands or pain!😻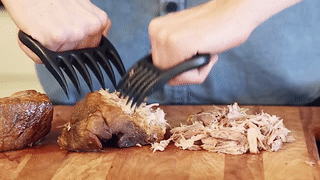 Features:
Does not stain your hands with meat fat - These meat claws can tear and mince meat like animals, and are ideal for professional preparation of pulling pork, pulling chicken or carving barbecue or poultry without soiling hands and nails.
Multifunction - The barbecue tool can also be used to mix salads. These meat claws can also be used as barbecue forks to turn or grab large pieces of food, such as seeds or turkey!
Easy to clean - Meat claws are easy to grip and easy to clean. Safe to use in dishwashers!
Specifications:
✅Color: Black


✅Dimensions: 11.5 x 11.0 x 2.5 cm

✅Weight: 45g per claw
Package includes:
1

pc / 2 pcs * Bear Claw Meat Splitter
Note: Please keep away from children!