🌸 A TOTALLY UNIQUE WAY TO STORE EMBELLISHMENTS IN
ONE PLACE
CONTAINER! WITH A SIMPLE
TWIST OF THE TOP LAYER 🌸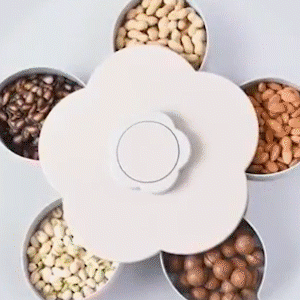 The Bloom Snack Box is the perfect snack-box forFriday night movie marathons with friends and family._____________
You are going to love this
Bloom Snack Box
The bloom snack box is the perfect snack-box for Friday night movie
marathons with friends and family. Impress them by rotating the bloom
snack box revealing all their favorite snacks to munch on.
Product Description:
Gently twist

the flower switch on the top of the fruit bowl, easy to open or close the fruit bowl
Silicone anti-slip mat at the bottom, which has both anti-slip and wear resistance
A

unique petal shape. The fruit plate can be used for storing small snacks or small items such as jewelry and cosmetics.
Great for parties, even a weeknight meal becomes a party when nuts are served in this multi-bowl.
Healthy materials let you use them safely.
Specifications:
Type: Double Layer/ Single Layer(Large).
Material: Environment-Friendly ABS.

Features: Rotary Switch/Durable.

Double Layer Weight: 1050g.

Single Layer Weight: 750g.
Color: Pink/ Blue.
Package Includes: