Free Shipping Worldwide & No extra customs tax 
A Full Coverage Wool Shelter For Your Woodland Pursuits!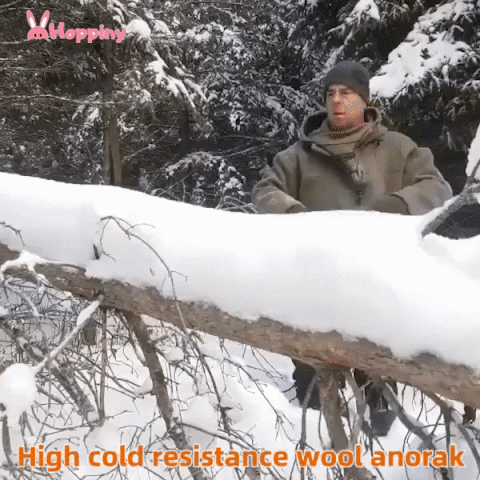 Boreal Windrak is the new trendy and stylish anorak specially meant to fight and guard against those cold airy waves in the chilly winters¡¯ wholesome.
Durable, rugged, outdoor jacket built to last a lifetime. With a generous fit and rugged construction, this shirt might never return to your closet. It's cut long enough to shield your hips, and wide to stuff with layers.
Today this garment is worn by pros around the world who brave some of the most extreme weather Mother Nature throws their way.
FEATURES:
This fabric is woven tight in order to provide you with extra protection against winds that are common in higher elevations while keeping you toasty warm. Its natural properties make it fire retardant, will wick body moisture, repel water, and could retain up to 80% of your body¡¯s core temperature in the event you get it wet.
Weighing in heavy at 650 gsm, 28 microns gives it a stronger/tougher feel to that of our other wool models that are softer to the touch. This color will blend in perfectly while you¡¯re on the hunt or simply exploring the wilderness.
Finally, we added a front kangaroo pocket with webbed d ring suspenders sewn on the inside for receiving your keys. Proudly bringing you another precisely finished, heirloom product that will yield maximum durability and become your go-to anorak for all your wild expeditions.
The front kangaroo pocket comes standard and carries left and right D-ring receivers sewn on the inside. Given its full length, we added left and right side slits to facilitate access to your pant pockets or sidearms. This garment is designed to repel water and provide excellent protection from the wind. With little care, this anorak will provide years of dependability and is built to last a lifetime.
SPECIFICATIONS:
How to measure:

Neck: measured around outside of the seam
Chest: measured around garment at armpit
Length: from shoulder seam at the neck to hem
Hips: hem circumference
Arm Length: from shoulder seam to cuff
Shoulders: from seam to seam behind the neck
PACKAGE INCLUDES: