To infuse the taste of garlic into your dishes, you need to finely dice the cloves or crush them. This Garlic Presser is the perfect tool for
mincing garlic for incredible flavor
in every dish you prepare. Easier to use than typical presses,
this handheld variety gives you better leverage for an easier, more comfortable tool
. It's your kitchen your way.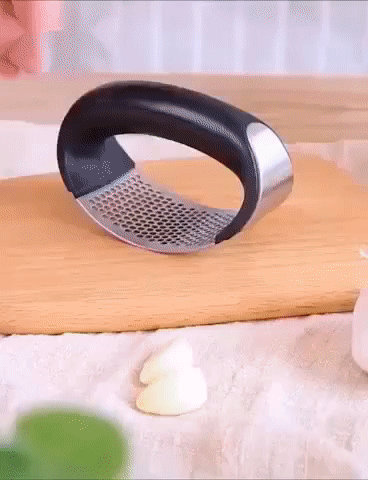 100% FDA approved stainless steel + Silicone design, perfect kitchen tool for home and restaurant.
No more Odor, simple to peel, press, mince, crush or even chop up garlic freshly, you will fall in love with cooking.
Easy to use: Non-slip handle with a slight back and forth rocking motion.
Easy to clean: Dishwasher Safe
OVERVIEW
Simply place your clove (or cloves underneath the carefully placed series of holes, and rock the
Stainless Steel Garlic Presser
back and forth.
You'll end up crushing your garlic, all without having to touch it.
The ergonomic handles allow for comfort and ease of use
. No chamber or blade means it's incredibly easy to use, clean and dry.
Simply rinsing under your faucet to remove any skins and residue
, brush it a bit and you're done! No more blades and knives, protect your fingers from cuts. The product will certainly impress you with their ease of use.This tool also works great for
mincing ginger!
HIGHLIGHTS
Made of finest food-grade materials.
Uses the natural motion of your hand to mince garlic
The press moves easily using the weight of your own body
Ideal for people who have problems using conventional presses
Garlic does not get crushed, but micro-cut, which helps preserve the aromatic oils of the garlic
Good grip: The solid handle is made of ABS plastic, comfortable to use and protects your fingers
Easy to clean. Dishwasher safe
Item Weight 3.84 ounces
Highly durable
Click ADD TO CART To Order Yours Now!