Power up a new day with a good cup of coffee at hand. Now, you can make your very own design with the help of this art coffee pen. It pours a consistent amount of coffee into your cup so you can easily draw and decorate your coffee with any designs in mind. You can also fill it in with powdered spices if you want to. Grab this and you'll certainly draw to perfection your every plating or cup of coffee!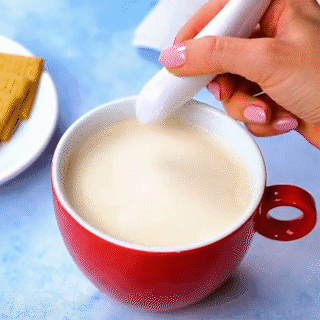 The pen has a special design with two ends: one pointed and one flat, very compact & beautiful. Besides, It made of high-quality plastic material that is not only safe for health but also cleans very quickly and easily. Comparative small size and lightweight, easy to carry and use at anytime.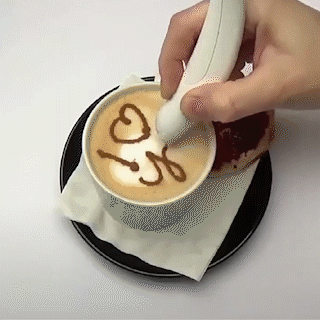 The first and only kitchen implement allows users to make drawings and write with ground spices. To creative and make food and coffee into beautiful works of art. Ideal for drawing designs or writing messages directly onto a variety of edible surfaces.
You and children will make creative messages & drawing with this decoration tool for any occasion-easily. Enjoy making a pattern and drawing with ground spices or other natural materials using an electric spice pen.
A simple design makes it easy to operate for anyone and requires little maintenance! You will feel like a professional coffee artist in no time. Just put the coffee granule or seasoning powder in the pen holder, cover the lid, hold the small button on the pen, and then start painting. Both adults and children can use it.
Use it to easily make a latte, cappuccino, and other fancy coffee, and hot chocolate, cake, cookie, food, etc. A perfect tool for children, teenagers, and adults to be creative and make their food and coffee into beautiful works of art. Can be widely used in many scenes like restaurant, company, school, home, hotel.
HOW TO USE IT?
Press gently on one end of the pen body and open the lid, and put the selected seasoning powder into the pen holder.
Cover the lid, hold down the small button at the pen holder, then you can start painting.
SPECIFICATION:
Color: White
Material: Plastic + Electronic Components
Size: 14 * 2.5 * 2 CM / 5.5 * 0.98 * 0.79 inch
Weight: 55.6 g / 1.96 oz
Powered by: 2 x 1.5V LR44 battery
Package Includes: 1 ¡Á Electric Coffee Pen