This faucet tap is a kitchen essential which helps you to adjust the water temperature. It is a fun and practical addition to your kitchen. The Temperature Faucet Tap is an innovative kitchen tap that changes color according to the water temperature.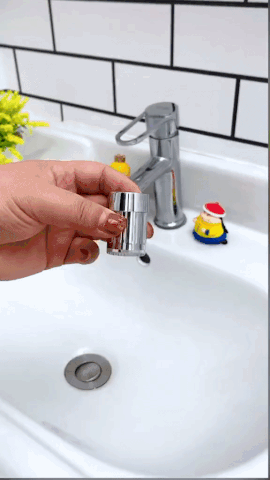 ABS chroming material, excellent corrosion resistance, durable.
Transforming the stream of water into a beautiful waterfall of light.
The light is activated by water pressure and turns off automatically with the water.
Ideal for a bathroom or kitchen to make it fantastic.
?Blue Light and 7 Colors do not affect by water temperature.
1 Color: blue light, the faucet will light in blue once there is water flowing through.
3 Colors: The color's change reminds you of the water's temperature.
1)Water glows blue when water is cold (temperature below 31¡ãC )
2)Water glows green when water is warm (temperature is 32¡ãC 43¡ãC)
3)Water glows red when water is hot (temperature above 44-50¡ãC)
4)Water flashes red when temperature above 50¡ãC.
When the water temperature over 51¡ãC, red flashes to warn you to avoid being scalded.
7 Colors: Many Colors will be light at random at the same time once there is water flowing through.
Specifications:
Material: ABS engineering plastics
Item size: 35*24mm(L*Exterior diameter)
Interface size: M24*1mm
Package Includes: 1 x faucet tap