Stay protected, stay in style.



Walk with style and comfort. Order yours today at 50% off!
For the new normal, our health is paramount. But staying in style need not be forgotten. With this Cyberpunk Ninja Hoodie, you can stay fashionable while staying protected from dust, germs, and other contaminants.
The Cyberpunk Ninja Hoodie is a regular fit, hooded top made from super soft cotton offer all-day comfort. A hoodie that has a smooth feeling finish on the outside, with a plush soft feel on the inside. Fashionable streetwear, tailored to perfection.

It comes in sleeveless to match your preference. Woven with stretchable cloth for additional comfort. You can wear it anywhere and anytime without feeling uneasy.

Equipped with a built-in mask that covers your face, from your nose down, that comes in cyberpunk-themed print. This fashionable ninja wear can also protect you from inhaling dust, germs, and other contaminants. Designed with a hoodie that not only adds up to the style but also covers and protects your head.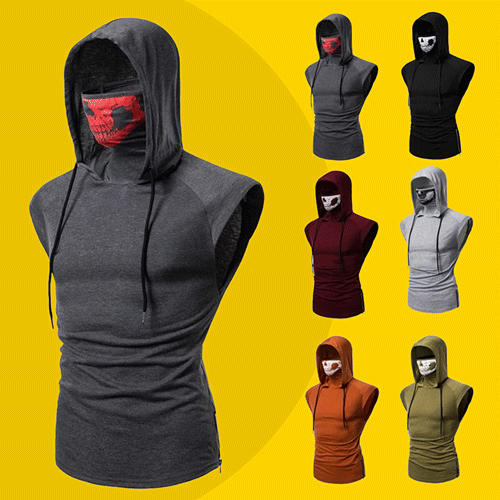 Perfect for the modern gentleman in you.
Carefully crafted with high-quality cotton and other materials to ensure comfort, quality, and durability. Totally washable and reusable. This cyberpunk hoodie can stand years of wear and tear, without the color fading, or the cloth stretching.

Comes in different colors and sizes too. Ideal for casual styling.
This hooded wear also comes with a zipper on the bottom for additional styling. This also allows you to adjust and allow space on the lower portion of your abdomen.
Specifications:
Material: Cotton Blend

Collar: Hooded