✔ Ideal Christmas gift for kids
✔ Great for learning development
✔ 11.8 inches tall
✔ USB rechargeable
✔ Suitable for ages 12 months+
✔ Perfect for pets too
Kids Are Going Crazy For This Funny & Adorable Talking Plush Duck Toy!

This adorable plush toy will literally repeat whatever you say to it! With a fluffy tall appearance, kids love to play and cuddle with it! Makes a great companion for kids!


Funny Interactive Toy
The Talking Duck repeats whatever you say! If you giggle, it giggles; if you sing, it sings back to you in its funny duck voice! The talk-back function allows the duck to mimic everything you say no matter if you laugh, sing or speak any language. Your kids will love interacting with this toy!
Helps Develop Kids Language Skills

Some kids are shy to talk at a young age but this interactive plush duck toy will actively get kids to talk more and lead them to practice speech skills!
As children talk to this duck toy, they¡¯re also listening to the sound of their own voice, figuring out on their own how best to say what they want to say, and practicing their pronunciation skills.
This interactivity will actively get your kids attention and lead them to better social development and makes a fun learning development tool especially for helping kids that have autism or ADHD.
Multiple Play Functions

Comes with two different play modes. When you turn the duck on it will hilariously repeat whatever you say. Press the duck's left-wing to play one of 200 built-in baby songs or use the right-wing for volume control.
Moves & Walks

Kids will love it when this Talking Duck?? walks forward all on its own! Just place it on any flat even surface and whenever it talks you can watch it waddle forward. It also moves its body while it talks!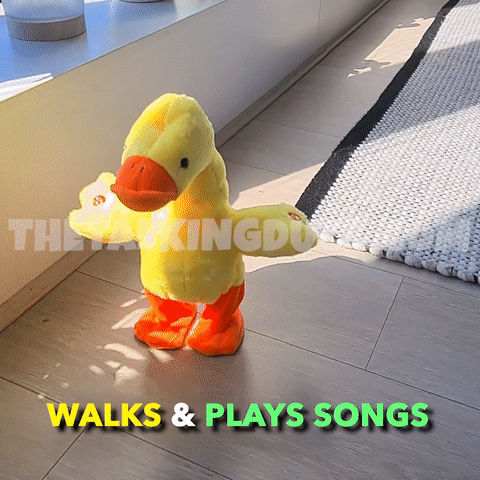 Flaps & Quacks When You Pick It Up
If you pick it up by its neck Talking Duck?? will flap its wings and quack frantically in a comical way!
USB Rechargeable
Talking Duck?? comes included with a USB charging cable for its rechargeable lithium-ion battery. Compatible with any USB wall charger, you can charge it for 2 hours and enjoy hours of play. No need to replace batteries!
Safe For All Ages
The Talking Duck?? is made from high quality, huggable plush material, and has a hidden on-off switch. Comes with safe embroidered details on surface-washable, baby-soft plush for hassle-free cleaning that stays soft even after countless uses. Soft and harmless material that won¡¯t hurt a child's skin.
The Perfect Christmas Gift
The Talking Duck is a plush toy, but you'll get laughs and happy responses from all ages! Just imagine the reactions on everyone's faces when they see this adorable duck start to talk! Perfect for birthday, Thanksgiving, Christmas, Easter, and other important days.
Easy Operation

Simply switch it on, and talk to it. It will imitate your voice in a high-pitched funny voice. Flip the switch to the OFF position to conserve battery life when it is not being used. Surface-washable for easy cleaning - simply remove the motor from the velcro strap in the back.
How To Use It
Flip the switch to ON position and talk to it, it will start mimicking you.
Flip the switch to the OFF position when not use it.
Press the left wing to hear it sing built-in songs
Press the right wing to change the volume
Pick it up by the neck to hear it quack and flap its wings
The ON/OFF switch is at the bottom.
Specifications

Size: 11.8" inches (30 cm)
Material: Plush
Fill Material: PP Cotton
Suitable for: Babies, toddlers, infants & kids
Suitable Age: 12+ months.

(White duck does not have walking and quacking function)

Shipping & Handling

All orders are shipped from our warehouse within 1-3 business days of you placing the order. You will be provided with a tracking number as soon as has left the warehouse!
The typical delivery timeframe is 7-10 business days depending on your location, however, please note that packages may be faced with delays beyond our control due to the ongoing COVID-19 pandemic.
For more information visit our shipping page from the menu.
Worry-Free Purchase

We stand by our product with a 30-day money-back guarantee. If your Talking Duck toy has any issues during the first 30 days we'll replace it for FREE!

Your sound shopping experience is our top priority. So please feel free to reach out to us by visiting the Contact Us page if you have a question or you are not satisfied with our product, we will get the issue taken care of ASAP.