Do you want stronger and perfectly- toned muscles? Are you struggling to get that six-pack but don't have the extra time and energy for high-intensity work-out?
The solution is finally here! Fast track your way to the perfect body that you always dreamed of with our highly-effective Abs Stimulator. Its most advanced EMS technology stimulates your muscles to help you lose unwanted fat and tone your muscles without extra effort. Rock that sexy outfit, turn heads and boost your self-confidence knowing that you are in the best shape ever!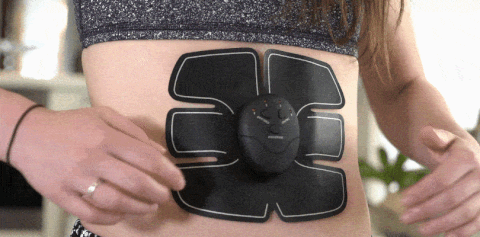 Getting that awesome figure has never been this easy, you can even use it while doing your other daily activities for just 25 minutes a day. The powerful electric pulses that automatically tightens and firms your muscles do the hard work for you. It is made of high-quality material that's comfortable and has multiple levels of intensity that suits your preference. You'll definitely find the ideal work-out buddy with our Abs Stimulator.
Key Benefits :
Save time from spending long hours in the gym, a 25 minutes use is equivalent to a two-hour workout for that muscle group.
Save money from buying different diet pills to lose fat and protein powder to gain muscles.
Safe, convenient and easy to use, simply attach the pad to the body area that you want to stimulate and let it work for you. Fitness anytime, anywhere!
How to use :
Insert the batteries.
Connect the main device to the gel pad, then attach it to the abdominal muscles, arm muscles, waist muscles, leg muscles or the body part you want to stimulate and shape.
Press the middle button to turn the main device on, the indicator light flashes 3 times.
The pad will turn off about 5 seconds later if it's not attached to your body.
Sit, relax and train those muscles like a PRO.