Craft Your Own Embroidery Work Conveniently

!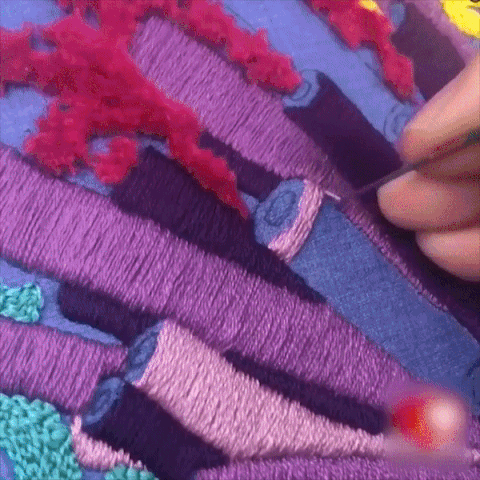 If you feel like hand embroidery is a difficult and perplexing skill to learn, you may want to consider punch needle embroidery instead. Also known as painting with thread, it is a new trend in embroidery that allows one to create textured designs by simply punching thread through the fabric.

It's fairly easy to learn crafting given the right tool! Make intricate handmade embroideries using this Embroidery Stitching Punch Needles - the punch embroidery tool with an Interchangeable head for various needle sizes for ALL your crafting needs!


FEATURES:
CONTINUOUS THREADING - With this punch needle, you can create intricate handmade patterns easily. You don't have to put more pressure as the needle effortlessly goes right through the fabric. Have effortless and continuous threading with this tiny tool!
CUSTOMIZED & EXQUISITE CRAFTS - With the exquisitely crafted result, you can apply to any kind of clothing. You can use it on pillows, rugs, wall hanging, ornaments, and other decorations to have a customized pattern.

WIDE APPLICATION

- The needle set comes with an interchangeable head that can fit with various needles. Use it with different thread thicknesses according to your needs. Also, perfect for every clothing textile.
DURABLE & STURDY NEEDLES - The anti-corrosive Stainless Steel is built to be tough. It doesn't get broken with higher pressure or thick clothes. There's no limit on which fabric you use this needle set!

EASY TO FOLLOW STEPS

- All you have to do is- Just thread and punch the needles! The needles feature smart color-coding to identify the designated needle for your particular crafting.



INSTRUCTIONS:
The stitching punch needle is thicker than the needles we usually use, and it is hollow. The thread passes through the hollow part and then comes out from the small hole.

SPECIFICATIONS:
Material:

Alloy
Needle Size: #9, #10, #12, #14, #16, #18, #20


PACKAGE INCLUDES:

1 set x Embroidery Stitching Punch Needles (7 PCs)