What happens when your leather gets worn out or faded after using too long? Try our leather beauty cream and leather repair tools. You can restore the luster of your leather products.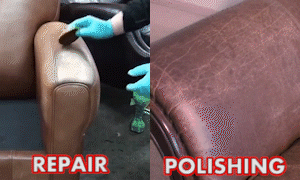 Main Features
Leather Beauty Care Cream
Perfect for the leather surface to form a protective layer, keep the leather surface clean and shiny, while making the leather easier to clean and maintain, can also effectively prevent pen marks, dye penetrating into the leather interior.
Leather Repair Kit
You can quickly repair damaged parts of the leather and make it look new, but be careful to choose the right color for the patch. And you can be paired with a leather beauty cream to restore the leather luster.
USE ON ALL LEATHER TYPES
Great for furniture, cars, couches, handbags & all colors and types of leather. Feel comfortable using this item on a large variety of leather items!
BUFFS TO A BEAUTIFUL SHINE
This will add a restorative effect to your leather, extend its life, giving it an extra layer of protection that will effectively restore the leather's shine.
Using Methods
Leather Beauty Care Cream:
1. Use a soft cloth to rub the Leather Beauty Care Cream on the leather area that needs cleaning.
2. Rub sparingly into the leather in a circular motion. Note: Applying a little will match the sheen of your leather; if you apply more it will enhance the shine on the leather.
3. Leave for 10 minutes and then buff over with a cloth. It is crucial to buff this product to the best results. Your leather will now be thoroughly protected.
Leather Repair Kit:
1. Clean the damaged area with rubbing alcohol and cut loose and damaged leather.
2. Using the cloth in the repair set, cut a cloth slightly larger than the damaged area and insert it under the damaged area.
3. Use the color mixing guide on the other side of the instruction manual to bring out the desired color.
4. When the last layer of the mixture is finished, select the paper in the set closest to the texture of the area to be repaired.
5. Place the paper on top of the mixture and press hard. When the pigments are completely dry, remove the paper.
Specifications
Materials
Product Weight

Leather Beauty Care Cream: 152G
Leather Repair Kit: 110G

Package Contents

TYPE A
Leather Beauty Care Cream ¡Á 1

TYPE B
Leather Repair Kit ¡Á 1

TYPE C
Leather Beauty Care Cream ¡Á 1
Leather Repair Kit ¡Á 1
Product Size
Note
Due to manual measurements, please allow slight measurement deviations.
Due to the different display and lighting effects, the actual color of the item may be slightly different from the color displayed on the picture.