Love to take your pet on a nice walk but hate picking up their poop? With our 2-in-1 Poop Scooper, you will never have to worry about getting your hands dirty again!
*Not available in stores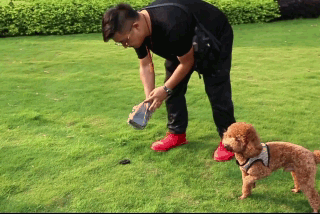 ✔? ONE HAND PICKUP: Normally you need both hands to grab a bag and pick up the dog poo, but now this can be much easier.
✔? HYGENIC AND CONVENIENT: The Scoopzy makes your pet's cleanup cleaner and more convenient than ever before!
✔? LIGHTWEIGHT AND PORTABLE: Attach it to your dog's leash so you never forget it. You can also attach it to your belt or bag.
✔?
AVAILABLE IN 2 SIZES: Perfect for both large and small dogs. You can choose from the medium or large scoop.
FREQUENTLY ASKED QUESTIONS
What size should I get my dog?
We recommend a medium-sized scooper for dogs that weigh less than 50 pounds (22kg), AND a large scooper for dogs 50 pounds (22kg) and up.
Does the scooper come with bags?
Yes, which includes 1 roll of waste bags for each scooper.
How soon will I receive my order??
Our team is working 24/7 to get your orders to you as fast as possible. Each order is processed within 24-48 hours. Due to the high demand on promotion items, please allow up to 2-3 weeks for your package to arrive at your doorsteps. ?