Life-Saving

Genuine

Quantum

Anti-Radiation

Patch
Protect

yourself and

your family

from the

dangerous

Electromagnetic Radiation!

The QuasiCore TM Quantum Shield blocks about 99% of EMF or EMR radiation that comes through electronic devices such as cellphones, tablets, laptops, TVs, and monitors!
ALL ELECTRONICS EMIT ELECTROMACNETIC RADIATION!

Can Cell Phone Cause Cancer? See this video...
Source: CBS Pittsburgh
In our daily lives, we find ourselves surrounded by electrical devices that make life easier, without which we would not have the amenities that make life enjoyable.
But did you know that all electrical appliances produce electromagnetic radiation? And that it can harm your health?
According to the World Health Organization's International Agency For Research On Cancer (IARC), electromagnetic fields (EMFs) are 'possibly carcinogenic to humans'
And cellphones are one of the most used electrical devices that emit EMFs, AND YOU ARE PUTTING IT NEAR YOUR BRAIN!

But you

don't

have to

worry

, Let

QuasiCore

TM

Life-Saving

Anti-Radiation

Patch

Protect

You and Your Family!
QuasiCore TM is a revolutionary way to prevent electronic devices to emit EMFs.
This little sticker is made of 16 semiprecious stones, rare metals and special oxides with superior magnetic properties, which can neutralize EMF radiation.

It is easy to use, just stick it to the back of your cellphone, tablet, laptop, handheld gaming device or router and it immediately will reduce EMF radiation, creating a safe and healthy environment for you and your family.


AND WHAT ABOUT OTHER ELECTRONIC DEVICES?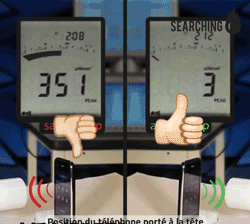 All electronic devices emit EMFs, and the amount of it depends on the function and size of the device, for that reason you might want to use QUASICORE on all of them. Here is a list of devices and the amount of QUASICORES and their location you have to use to achieve the EMF radiation reduction:
CELLPHONE: 1 QUASICORE on the back center of the phone.

LAPTOP: 2 QUARICORES, 1 stick to the battery and 1 stick to the back of the screen.

TV: 2 QUASICORES, stick on any part of the board behind the screen.

FRIDGE: 3 QUASICORES, 2 stick to the sides of the fridge, and 1 stuck inside to encourage a fresher airflow.

AIR COND.: 2 QUASICORES, near the sides.

MP4 PLAYER & SMALL GADGETS: 1 QUASICORE on the battery.

MICROWAVE OVEN/ GRILL: 2 QUASICORE on the back of the oven.
How it works:
HOW TO KNOW YOU ARE BEING EXPOSED TO EMFs?
Clinical studies have shown that long term exposure to mobile devices can have harmful effects on your body and overall wellbeing!


Some of the symptoms of EMFs exposure are:
Sleep disturbances like insomnia

Headaches

Depression

Tiredness and fatigue

Dysesthesia (a painful, often itchy sensation)

Lack of concentration

Changes in memory

Dizziness

Irritability

Loss of appetite and weight loss

Restlessness and anxiety

Nausea

Skin burning and tingling
Package:
Pack of 6 Genuine Anti-Radiation Patch (Box)