Works Up To 10x Faster Than Using Your Old Knives!
Experience original Quick Magic Dicer quality in practical hand format - with this set now 4 Blades. The different bladed insert can be combined with each other - cut thick slices, thin slices, cubes, pins and sixths! With this Quick Magic Dicer, you can cut directly into the pan, bowl or pot: for speed and flexibility without much effort and dirt in the kitchen. Or click the collection container on the handset - for cutting in directly! With the cling-lid you can store any remaining airtight.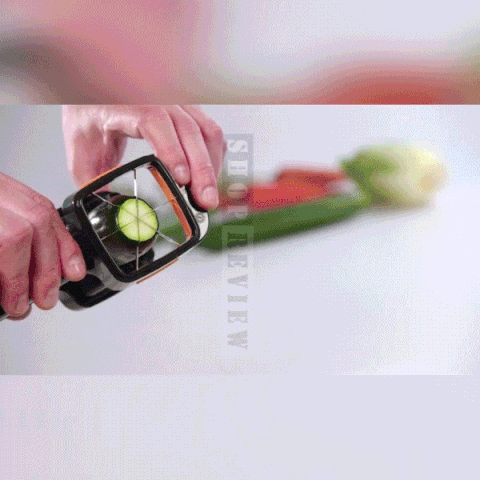 Features:
100% Brand New and High Quality.

Extra-sharp and reinforced stainless steel blades in high quality!

Collection container with fresh food lid for direct cutting in and store safely!

Kitchen helper for versatility and lightness!

Quick Magic Dicer in format. The smallest of all dicer can be operated with just one hand and thanks to its compact size ideally suited for when travelling.

Thick slicing, thin slices, dices, slices and more

Directly Into The pot, the pan or the bowl for cutting.

Catch Tank with an air-tight lid for direct cutting and safe storage.
SAVE TIME:
The

Quick Magic Dicer

Chopper is the ultimate time-saving device for having fresh-cut fruits and vegetables. Using knives to individually cut fruits and vegetables can take lots of time which can be a deterrent to having fresh cut food.
SAVE MONEY:
Buying chopped and pre-sliced fruits and vegetables can be expensive. This

Quick Magic Dicer

saves money by perfectly cutting fruits and vegetables at home.
HOW IT WORKS:
The Quick Magic Dicer

is a handheld personal at home kitchen tool that cuts, chops and slices fruits and vegetables. It works by attaching the blade insert on the handheld device. Then, place the item to be chopped between the blade and the backing. The user has to clamp the blade over the item and the blade will chop, slice or cut the fruit or vegetable into the selected size.