Dries you thick long hair in 5 minutes!


Our
Rapid Dry Hair Turban
wicks water away
from hair
5 times faster
than a regular cotton towel, and
prevents

frizz, split-ends and damage
caused by
friction
from bath towels and substantial
heat damage
from blow dryers
.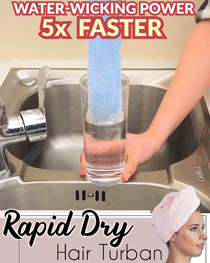 Woven from
ultra-absorbent
microfibers
with
superior

water

-wicking
power, it is lightweight with a raised waffle pattern that offers more fabric for
quickly and gently dries sopping wet strands to the perfect damp stage.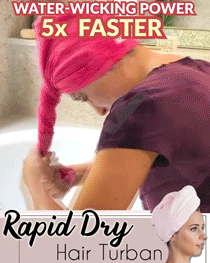 With the exquisite button loop design, the hair towel can
easily secure around your head, allowing for faster, hands-free drying while you get ready for the day, and let your hair stay strong, healthy and vibrant.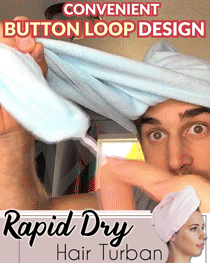 FEATURES:
5-Minute Rapid Drying

:
Cuts drying time by >50%, hands-free and friction-free; no rubbing or blow drying


5X Faster Water-Wicking Power :
Gets excess water out fast and keep moisture in while providing comfort and durability


Ultra-Absorbent

Microfibers

:
Super fine fibers with raised waffle pattern move water away from your hair quickly and evenly without rubbing


Ultimate Hair Protection :
Helps reduce frizz, split-ends and breakage caused by rubbing friction of towels and heat damages of blow drying


Convenient Button Loop Design :


Wraps hair and tuck in the ends easily to h

old your hair in place


Softer, Shinier & Healthier Hair :
Creates bounce, volume and curl definition with resilient hair; reducing the need for styling products


Long-Lasting Color Treatment :


Hair cuticles lay flat, locking in hair color; vibrant hair color staying longer


Lightweight, Soft & Supple :
The supple microfibers are super gentle on your hair, remains soft and comfortable even with regular use.

Versatile Use :
Perfect for everyday use at home, gym, and travel, great assistant in facial, bath, makeup, face wash; one size fits all hair types and lengths.

Easy to Clean

:
Machine washable
DIRECTIONS:
Bend and flip head forward to make your hair hang down, place hair turban on top of head (the end with button).

Wrap your hair with the hanging part of the towel. Do not rub.

Pull up the secure loop across your head, then secure by fixing it under the secure button.

Leave towel on until hair is damp or drier.


SPECIFICATIONS:
Material: Coral Fleece (Microfiber)
Dimension: 27.16" x 9.85" (69 x 25 cm)
Weight: 3.40 Oz (96.38g)
Color: Brown, Gray, Pink, Blue