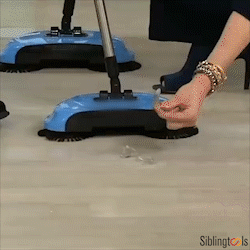 The groundbreaking Magic Broom is a juggling machine with a broom, a dustpan, a trash can in its frame. A whole new generation of cleaning products. So easy to use that even your kids can use it. Once you've cleaned the dust in every corner of your house, you just need to gently push the trash can out and throw the junk away. Easy to use, even for kids. This sweeping machine uses no power, there's no sound, and it's going to make your life simpler and quieter.
Doesn't

operate on batteries or electricity and simply spins its own brushes as you push it
If you're wondering where all the stuff went after you picked up junk from the field, here it in the back
The handle is fully adjustable for height and distance, making the broom ideal for the hard to reach places. It also makes it easier for people of all sizes.
SPECIFICATIONS:
Usage Environment: Home, office, hotel and etc.
Broomstick Material: ABS+Stainless steel.
PACKAGE INCLUDE:
1 x Revolutionary Magic Broom.