Restore your car¡¯s original color and shine in within seconds!
Even minor scratches can destroy your car¡¯s overall look. Remove them instantly with this Scratch Repair Nano Spray. This car paint sealant removes minor scratches, stone chips, water spots, stain, and other marks caused by various contaminants within seconds.
It allows you to restore your car¡¯s original color and luster in an instant, as if nothing happened. Specially formulated to create a protective 9H ceramic coating that prevents any further damage with long-lasting protection. This ultra hydrophobic coating significantly reduces water stain and other dirt build-ups. Leaves you with a flawless and well-coated car instantly.
Spray for a perfect finish!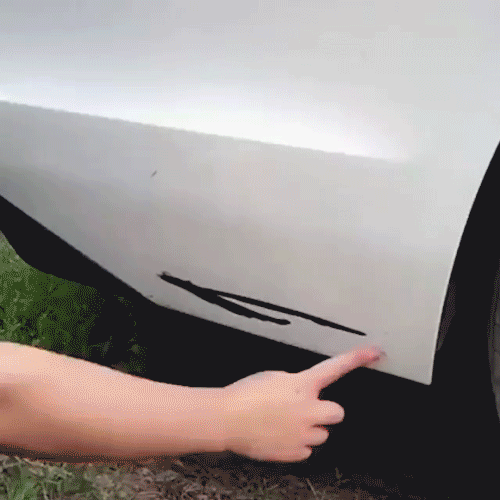 If you want your car to be good as new, use this scratch repair nano spray. It does not only restore your car¡¯s original appearance but also keeps it that way. Keeps your car as shiny as possible.
Formulated with non-toxic and paint-friendly ingredients to ensure quality and longevity. It does not contain any harmful and toxic chemicals that could create further damage. It leaves a non-greasy and odorless finish that generally lasts up to 3 months. Totally safe to use.
It¡¯s suitable for any vehicle of any color. Perfectly blends with your car¡¯s paint as it does its magic. It works on various surfaces as well, including leather, glass, rubber, wheels, metal, plastic, and even your car¡¯s carpet. Absolutely useful and cost-efficient.
This nano spray is lightweight and compact. Allows you to give your car an instant repair anytime, anywhere. Super easy to use too.
How to apply it?
? Wipe off dust, liquid, or other dirt from the area of application.
? From a reasonable distance, spray the cleaner on the desired area.
? Carefully and evenly wipe the area with a cloth or sponge.
? Do this repeatedly until the surface is spotless and shiny.
Specification:
Material: Polysiloxane and other Nano materials etc.

Durability: 3 years

Anti-corrosion: PH tolerance: PH2-12

Heat Resistance: Up to 760 degree

Consumption:120ML