Slushifies your drink in less than a minute wih our Squeezy Peasy Slushy Cup! Cool down the heat with your DIY slush this Summer!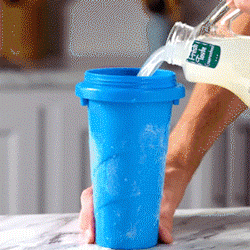 Simply pour in your favorite drinks and squeezes gently, your slushy will be ready instantly! Enjoy the slushy party with different flavors, perfect with juice or soda, or you can add milk to make a thick shake or an ice-cream.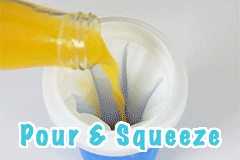 It¡¯s washable and reusable, simply wash with soap and refreeze afterwards, you can use it again and again.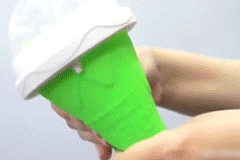 Features:
DIY Slushy Maker: Creates delicious frozen drinks in minutes! Enjoy with different flavors such as soft drinks slushy, thick shakes or ice creams.
Easy To Use: No ice, no blenders, no mess!
Reusable: Simply wash in warm soapy water after each use, refreeze, and it¡¯s ready for your next slushy party.
Safe & Non-toxic: Made from BPA free, FDA approved, food-grade silicone, 100% safe for you and your kids.
Innovative idea: Create a lasting impression and a memorable talking point with its unique design.
Instructions:
FREEZE:

Simply place your

Squeezy Peasy Slushy Cup

in your freezer for 6-8 hours. (Leave over night for best results).
FILL with any cold drink
SQUEEZE to make slushies in seconds!!
Package Included: 1x Squeezy Peasy Slushy Cup (FREE Spoon Straw)
Estimated delivery time 7-14 days