PRODUCT FEATURES:
Healthy and Safe: 100% food-safe silicone lids, BPA-free stretch material, you can simply put the silicone lid on your food and heat it in the oven or in the microwave.
Most versatile lid set: Set contains 6 different sizes to fit different Containers: Cans, cups, lettuce bowls, pots, pans etc.
Reusable and economical: Made from high quality silicone, our stretch covers are tested to be the most durable for repeatable and daily use.
Easy to find what you need: The clear silicone case lets you easily see the vegetables or other foods you're looking for. No dyed or dyed material on the lids, it is healthy for baby and adult foods.
Suitable for fruits and vegetables: Also suitable for sliced fruits and vegetables to keep fresh, e.g. Melons, onions, pineapple etc.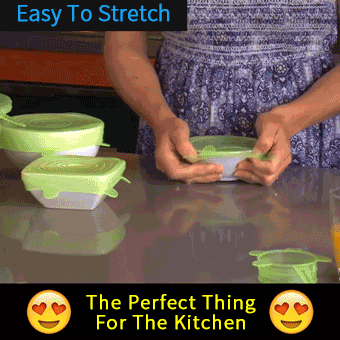 PACKAGE INCLUDES:

6 * Stretchable food silicone lid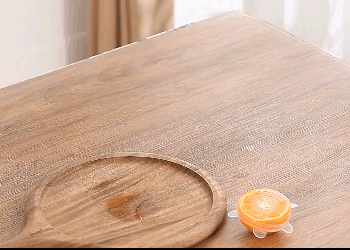 Put A Lid On Plastic Waste!
These
6 silicone lids fit over any square or round containers.
Just choose the size closest to your bowl, dish, container, or half-eaten fruit and stretch it over!Don't risk running out of plastic wrap and protect your food!
✅
6 reusable and durable
silicone food covers, various sizes
✅
Made from
food-safe, sand-derived silicone
(NO plastics)
✅
Heat, dishwasher, and microwave safe
✅
Non-toxic, BPA Free
air-tight seal so foods stay freshSave the earth and eliminate plastic wrap from reaching our oceans! With these reusable container lids, you¡¯ll never need plastic wraps for storing food again. Our 6-piece kit will ensure an airtight seal on any container in your home. Microwave and dishwasher-friendly, they're as easy to clean as any plastic ware or dish. With the unbreakable airtight seal, they will keep your food fresh for much longer.
How EcoLids Help
After surveying nationwide, we found out that the average family uses 2-4 sheets of plastic cling wrap to store food in the United States. That's over 700 million sheets of plastic cling wrap per day! By joining the zero-waste movement you will help save the planet every day.


Get your Zero-Waste EcoLids and eliminate daily plastic waste!
The Facts Behind PlasticPlastic takes over 1,000 years to decompose,
once it finally breaks down it turns into micro-plastics that never fully disappear.

90% of this plastic is not being recycled properly and makes its way to our oceans, this is a step forward for our Earth that needs to be taken by everyone and by you, starting today.

You can make a HUGE difference in such an easy way by eliminating your daily usage of plastic wrap.


Are you ready to join the Zero-waste Movement?
Available Online Only. We Ship Worldwide!