THE BEST WAY TO IMPROVE YOUR DOG'S MOOD!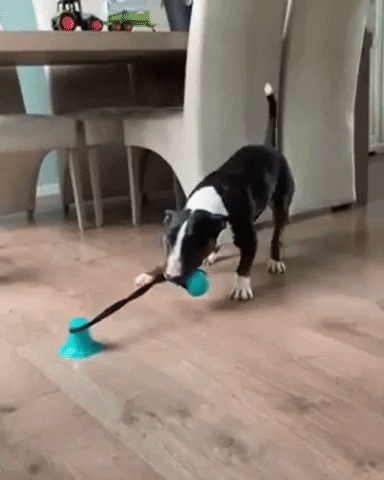 ✔? HELPS TRAIN YOUR DOGS: This toy also provides a great way to teach your dog self-control and improve their behaviour. Set rules on when and how much they can play with it.

✔? MATERIAL: Made of natural cotton fibres and non-toxic rubber and colours, it is soft and non-toxic, durable and wear-resistant, very suitable for the dog.
✔? DURABLE: Featuring a strong suction base and a thick, braided rope, it is built to withstand any amount of tension caused due to stretching.

✔? CLEANS THEIR TEETH: The rugged pattern on the rubber ball provides a better grip and chewing on it promotes dental hygiene and health in dogs. Add some dog-friendly toothpaste to clean your dogs¡¯ teeth as they are playing.
✔? REDIRECTS INAPPROPRIATE USE OF TEETH: Most dogs, especially puppies love having something to bite. This means chewed up papers, furniture, and even painful ankle-bites.

How to Use:

Why do I need this?
1. Teething and aggressive pups will no longer destroy your belongings!
2. giving your dogs a brighter smile and loosens any dirt or grime that may be stuck in their teeth.
3. Not available in offline stores.