Wooden watches for the modern gentleman.
It¡¯s about time that you stand-out. This Wooden Wristwatch is beautifully crafted with nature, designed to make you exceptional.
This unique wristwatch is made of natural and eco-friendly materials. Features a strap, back cover, and case that are all carefully crafted with the finest wood. Made perfect for everyday wear and special occasions.
Using advanced technology, this is equipped with an innovative roller design that displays the current date and day. A smooth and accurate electronic wheel movement enabling the watch to display the current time. It¡¯s an all-in-one accessory, displays everything you need to organize your day.
The wristwatch features three different buttons that enable you to change the date, day, and time. It¡¯s made with fine, lightweight, skin-friendly materials, making it comfortable to wear even for long hours. It¡¯s water-resistant and dustproof too.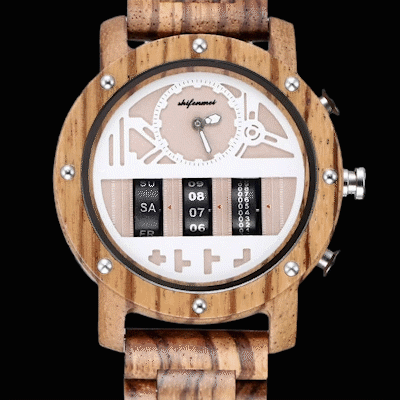 It¡¯s equipped with a stainless steel lock to ensure security. Crafted with durable materials, designed to last for years.
Purposely created to make you a modern gentleman, stylish and remarkable. It looks and works great on a variety of styling. Suitable for business meetings, casual dates, workdays, and even your usual errand runs. You will surely love this wristwatch that¡¯s beaming in elegance.
Wear smart, look smart.
Specifications:
Material: Wood (most parts), Glass, Stainless Steel
Weight: 106 g
Case Size: 43.5 mm
Case Thickness: 12 mm
Band Size: 240 x 22 mm
Movement: Quartz