WANT TO LAY TILES LIKE A PROFESSIONAL AND GET A FLAWLESSLY SMOOTH FINISH?
Continue reading to learn how the Anti-Lippage Tile Leveling System makes it easy and stress-free to lay perfectly aligned tiles in seconds!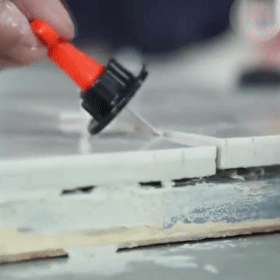 It's expensive to hire a professional tiling installation contractor, especially if you have a large project. Many people end up trying to do it themselves to save money. However, if it's your first time, there will usually be lippage and general unevenness that ultimately makes you end up hating the work that you did.
If you're working on remodeling your bathroom, shower, kitchen, or basement, the Anti-Lippage Tile Leveling System is an absolutely essential tool to save yourself time and money! Even professionals can use it to speed up their work.
All of your lineups will be completely flawless and everything will be 100% level on all four sides of the tile.
The Anti-Lippage Tile Leveling System is reusable so you can use it over and over for all of your tiling projects. It's suitable for tiles that are 3mm to 25mm in thickness with a tile gap that's greater than or equal to 2mm.
STEP-BY-STEP INSTRUCTIONS
Lay all of your tiles down in their proper positioning.
Each Anti-Lippage Leveling Head has a metal T-shaped bar. Stick the T-shaped bar through the open space between two tiles.
Twist the Anti-Lippage Leveling Head 90 degrees so that the T-shaped bar is perpendicular to the open space between the tiles. Please refer to step 3 in the picture below for a visual representation of how the T-shaped bar should be positioned.
Use the provided handheld wrench to twist the black clamp clockwise. Continue tightening until the tiles are evenly aligned. Place additional Anti-Lippage Leveling Heads throughout your various tiles to ensure that all tiles are evenly aligned.
Wait 3-4 hours while the tile adhesive dries. Leave the Anti-Lippage Leveling Heads attached to ensure that the tiles are secured in the right position.
After the tile adhesive has completely solidified, remove the Anti-Lippage Leveling Heads one by one. Wash them with soap and water to remove any adhesive residue.
Voila, enjoy your flawless tiles! Once all of the Anti-Lippage Leveling Heads have been removed, you can start filling the crevices between the tiles with grout or caulk.
FEATURES & BENEFITS
Practical and cost-efficient
Prevent tiles from moving while curing
Creates symmetrical spacing between tiles
Makes floor installations faster and easier
SPECIFICATIONS
Materials: Stainless Steel + Plastic
Gross Weight: 320 g
Net Weight: 300 g
Colors: Black and Orange
PACKAGE INCLUDES
50 x Anti-Lippage Leveling Heads
1 x Handheld Wrench
OUR 5 POINT CUSTOMER PROMISE
We ship worldwide!
30 day money back guarantee
Tracking numbers with every order
Real people on our internet help desks
Banking level encrypted SSL security
We have 24/7/365 ticket and email support. Please contact us if you need assistance.