Have You Ever Had A Relaxing Sleep On A Plane Like This Before?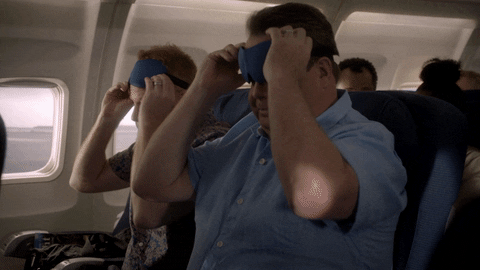 Introducing The
TravelSmart Inflatable Pillow
The Most Comfortable And Innovative Pillow For Traveling!
The TravelSmart Inflatable Pillow is made with buttery soft material for the ultimate comfort for your travel. Innovative design allows you to relax and rest with deep sleep. Travel comfortably in a natural forward position that allows you to play games or watch movies on your phone inside the pillow!
Provide you an ideal ergonomic position, while supporting your upper body to avoid stiff neck and sore shoulders. The unique design of the travel pillow follows the natural curve of your neck to reduce neck pressure.
Perfect for use on the airplane, train, car, bus, camping, office, home and much more! Comes with a compact travel carry bag that is lightweight and portable.

The TravelSmart Inflatable Pillow is suitable for both kids and adults. Simply open the valve to inflate the pillow in less than 30 seconds and you will have the greate pillow ready to use.
This pillow offers 4 different modes to take a rest or a nap, allowing you to find the position you like best for getting your well-deserved sleep.

With thisTravelSmart Inflatable Pillow you can finally reach your destination happy and well-rested, so you can start your adventure right away with full of energy and eagerness!
With a face window and arm holes, you can put face facing down while comfortably hug it to rest arms. Providing full support for the upper body makes it so easy to fall asleep, and stay asleep longer.

Easy to inflate and deflate. Takes just seconds, easy to get it ready.

Perfect choice for frequent travelers. Does not require a table to rest on, just put it in your lap and simply hug it. Fall asleep comfortably without accidentally leaning on your neighbor's shoulder when travel by air, train, and bus. No more awkward or embarrassing moments !

Washable for a better health. Hand wash separately in cold water. Use mild detergent. Do not

bleach or dry clean.

Made from environmentally friendly soft PVC fabric

Lightweight and portable. Fits in any luggage and backpacks. Great travel companion!

Perfect Gift: Best travel pillow for airplanes they will ever have by far. Buy one for yourself and one for your loved ones, family members, friends as a gift. They will love this

TravelSmart Inflatable Pillow.

**NOT SOLD in STORES**
50% off and FREE Shipping today only. Click the green Add to Cart Button Now!