BUY 2+ GET 10% Instant Off
Discount automatically gets applied at checkout
This Tug-O-War Chew Toy is a perfect toy for dogs that get bored when left alone in their house as they can play tug of war without you the owner even needing to be there. Simply use the suction cup to stick to any surface and let your dog become obsessed with trying to rip it off whatever surface it is stuck too.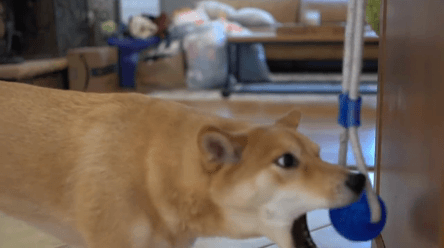 Does your dog ever get easily bored when they are in the house on their own? Most dogs do, they are all cuddly animals who love nobody as much as they love you their owner. When you go missing for a couple of hours your lovely furry friend is at one of their lowest points as all they want is to be back with you. Dogs are very social creatures and if they are left on their own for more than four to six hours they can get lonely which leads to potential isolation distress.


You may ask is there a solution? 100%. With our hand's free pull toy with a built-in a suction cup your dog can create its own entertainment by interacting with this toy that just sticks to any suitable surface. The powerful suction cup is strong and can stay stuck to a surface for hours at a time, even with a shredded doggo pulling at it for an extended amount of time.
Let your dog play tug of war for as long as they like without having to get involved yourself! The toy attaches a soft rubber ball that is rather bouncy to a suction cup that can stick to any hard surface. You don't have to stick it to a surface though, if you'd like to just play tug of war with your best friend then you can do that as well considering it's a multi-functional toy.

✅MADE OF NON-TOXIC RUBBER MATERIAL - The material the toy is made out of is perfect for dogs who love to chew and batter anything they can get their paws on. It's made from a rubber material that is super soft but at the same time completely durable to make sure it lasts long against your vicious canine.

✅VERY EFFECTIVE SUCTION CUP DESIGN - You can release your hands and let your doggo play with the toy by simply sticking it to a surface that sticks to the suction cup.
✅GREAT FOR YOUR DOGS DENTAL HEALTH - This toy's strong and soft texture is designed to be perfect for your dog's gums giving them a decent workout as they chew it. With a bright look, it is attractive for the dog and makes them not refuse it. It has a very bright design, it definitely catches your dog's attention with its eye-catching appearance.
✅FUNNY AND INTERESTING - It's not just your standard ball either it's material makes it easy to bounce off the ground so your dog will have a blast running around with it. You can easily use this toy at a place other than home including a garden, park or even on the shoreline if you'd like.