Keeps Food Fresh And Spill-Proof!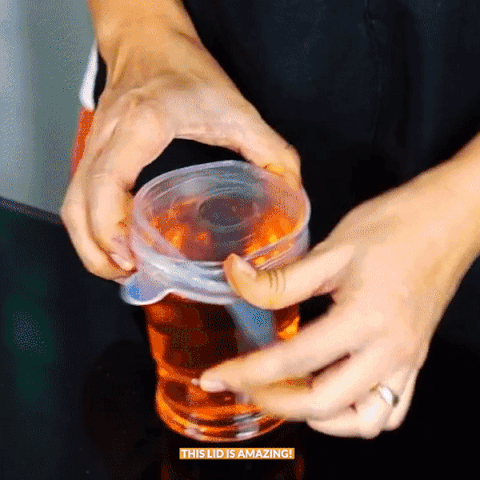 Silicone has a petroleum-based material commonly containing estrogen-mimicking chemicals like bisphenol-A (BPA), making it indisputably safer for human health than plastic.
The Ultimate Instalids are made of 100% environmentally friendly silicone. They're non-toxic, durable, soft textured, leak-proof, and reusable! These reusable silicone lids are durable and secure with extra thick silicone that won't tear or warp and can be used repeatedly. They are essential for anyone who wants to save space in refrigerators and cabinets, save time, and use wasteless alternatives!
FEATURES:
VACUUM SEAL FIT - The silicone lids not only acts as a lid but also creates an airtight vacuum seal.
FITS ANY SHAPE BOWLS - No matter what the shape of the container is, this Instalid will fit it. (square, oval, rectangular, round even a hexagonal bowl).
SPILL-PROOF SEAL - The Ultimate Instalids are spill and leak proof. Works perfectly to cover freshly squeezed juice and prevent it from going bitter and to cover a can of cola to prevent it from losing its fizz. Once sealed the lids ensure that the accidental tumble of the glass doesn¡¯t spill the liquid over.

KEEPS FOOD FRESHER FOR LONGER

- Fresh food oxidizes very quickly, take a bite of an apple and keep it out for 5 min and you will see the proof. Your Silicone Stretch Lid can keep your food fresh 10 times longer with its patented vacuum seal.
MICROWAVE FRIENDLY - Take your food directly from the fridge to the microwave without even removing the Silicone Stretch Lid. Your Silicone Stretch Lids are microwave friendly and heat-resistant to 450?F so you can quickly reheat & enjoy delicious leftovers
FOOD GRADE SILICONE - All Silicone Stretch Lids are made with food-grade silicone. You and your family's health and safety are our top priorities.

QUICK USE AND EASY TO STORE

-

Using Silicone Stretch Lids is quick and easy and will virtually take no space in storage.

REUSABLE

-

A Silicone Stretch Lid would last for about 2 to 3 years and it's infinitely reusable.
FASTER MARINATING - Cover your marinated meats and veggies with Silicone Stretch Lid for faster marinating. The vacuum created speeds up the marinating process up to 4 times faster.
FREEZER FRIENDLY - Can be used to even cover items in the freezer.
SPECIFICATIONS:
Material: Food Grade Silicone
PACKAGE INCLUDES:
1 set of Ultimate Instalids - Set Of 6