Optimize your View and Stay Safe on the Road
Sick of having an obstructed view while driving? This universal phone holder mount stand is a combination of heavy plastic and an adjustable clamp to make keep your dashboard clean of any obstructing views. A functional and durable product, this innovative design will not block your view or damage any of your car accessories.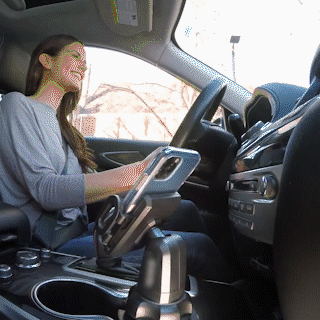 Easy Installation: This universal phone holder mount stand is super quick and easy to install and remove. No tools or gadgets required. Simply, put the base into cup holder and remove at any time damaging your car. It is easy to adjust and fits firmly and securely in the cup holder for car, truck, or SUV, fitting to varying size cup holders in your vehicle.
Adjustable Gooseneck: Our phone mount has a 30cm long neck. This makes it easier and more flexible to operate and access your mobile phone. Simply adjust the height as you desire and with a 360-degree rotation ability, you can adjust the holder to suit your desired angle, horizontally or vertically for different application.
Secure Fit: Don¡¯t worry about the phone mount coming dislodged during the drive. The anti-skid rubber pads on all sides keep the phone cradle in place and make sure the mounted base has no where to go. Keep your phone secure and steady in place even over rough and bumpy road.
Universal Clamp: Suitable for various types of car such as Ford, Chevrolet, Dodge, Toyota, Nissan, and Honda. The durable clips and holder can perfectly fit thick phone cases. Designed to hold most phone brands including iPhone, Samsung, Note, and Google.
Keep Glass Clean: The phone holder mount stand is a great alternative to the typical phone holders. This phone holder will firmly hold your phone in place in a cup holder rather than affixing it onto a window or dash. An innovative design, this mount will not obstruct any views while driving.
Order Today
Hurry! Before We Go Out of Stock
Get yours now by clicking the buy button and filling the order form. We will ship your entire package to you immediately.