Expand your MacBook Pro with the 11-in-1 USB-C Express Hub
Is the mess of knotted wires around your MacBook freaking you out? If yes, then here is the best thing that we have got for you: MacBook USB C Hub.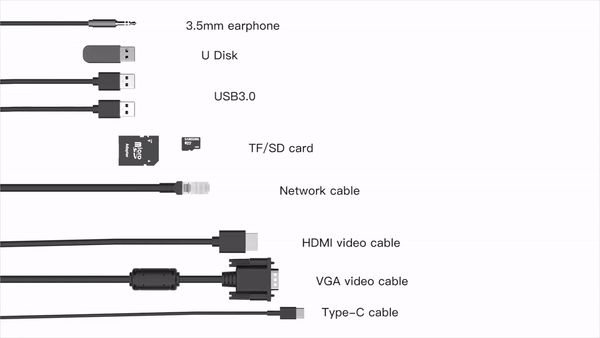 This is an amazing extension for your MacBook, MacBook Air, and MacBook Pro. Now you can neatly organize multiple wires with just one connected to your MacBook.
Features:

Connectivity Technology: Docking
Device Supported: Mac-book, Thunderbolt 3 Compatible Notebook
MagSafe 2 Power: Use your Mac Book's Mag Safe 2 power connector to charge your laptop.

Hi-Res 2 x 4K HDMI + VGA : Experience crystal clear 4K HDMI video on compatible 4K monitors for brilliant high-resolution display. Requires a direct HDMI to HDMI Connection

USB-C Data & Power Delivery: Our Mac USB C Hub supports Power Delivery (PD with Mag power compatibility.
Convenient Expansion Ports: Our USB C-Hub has additional three USB-A 3.0 ports, microSD and SD memory card slots for quick data transfer. And can power 1 hard drive at a time.
MacBook Matching Design: Precision milled aluminum enclosure, available in Space Gray.
USB Type C HUB to 3.0 USB HDMI RJ45 USB HUB for MacBook Pro Accessories USB Splitter Multi 11 Ports Type C HUB USB-C HUB MacBook USB C Hub (Dual Monitor 11-in-1
Specifications:
Weight: ounces

6.7 x 3.2 x 1 inches
USB C HUB With 2 x 4K HDMI Display Ports, gives your Mac book up to 11 Ports. 16" 2019, 2018 2017 2016 13" 15"/Air 2019 2018. With Additional 3 x USB 3.0 ports, SD Card Reader, and Ethernet.
USB HUB, USB DOCK, MACBOOK PRO, MACBOOK AIR, MACBOOK MacBook USB C Hub MacBook USB C Hub MacBook USB C Hub (Dual Monitor) MacBook USB C Hub (Dual Monitor))