Kiss Goodbye to Those Fine Lines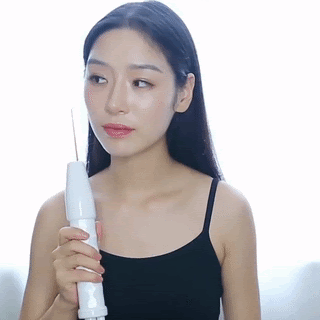 Bring a rejuvenating touch to your skin. Something to drive away the fine lines and wrinkles from your beautiful smile. The product may seem simplistic at first glance, but it packs a punch. It's a revolutionary massage device for those of us who can't afford a facelift. X-Beauty Wand helps you fight skin problems and go against the ticking clock. From wrinkles to drooping eyelids, dark circles, fine lines, and acne.
The List Goes On, But Your Skin Problems Won't. We Guarantee It!
?
Anti-Aging Treatment: Your wrinkles are the result of dryness, genetics, age, and sun exposure. These high-frequency electrodes tools improve your blood circulation, lift and firm your skin, promote the production of collagen on your face, and ultimately slow down aging process.
Crank Up Your Skin Product Results: These high-frequency skin tools are a great way to make sure you're getting your money's worth with serums and skin products. With the proper skin products, you can promote their transfer and conversion into your skin using them. stimulating the production of collagen to plump and smooth your complexion and give you a younger, fresher look.
Microcurrent for Morning Swelling: X-Beauty Wand massages your face with a kneading sensation and helps relieve morning swelling due to allergy. It provides a feeling of micro-current for a complete exercise of the facial muscles as an anti-aging treatment. After a few weeks of use, you can begin to feel and see the results on your skin and facial muscles.
How To Use:
It is quite simple. Cleanse your skin thoroughly to remove all accumulated debris and dirt.
Then moisturize your skin.
Next, you can choose the proper tool for your massage session.
Comb: For hair
Bent & Tongue: For eye pouches and the nose
Mushroom: For cheeks, chin, and large areas.
Allow 10 minutes to massage.

And finally, apply your treatments or serums to complete the session.
Some More Cool Features
Aids in calming nerves and acts as an anti-anxiety agent.
It has anti-aging, anti-wrinkle, and skin tightening effects.
Enhances the blood clotting, and its pH balance nature makes the skin neutral.
Increases blood circulation and improves metabolism.
Prevents premature hair loss, and reduces dandruff.
It generates ozone used for sterilization, which can help the wound to heal and keep pores under control.
Give Yourself a Natural Face Rejuvenating Touch in just 10 Minutes by Ordering your X-Beauty Wand Today
Get yours now by clicking the buy button and filling the order form. We will ship your entire package to you immediately.
Specifications: Parameters: Voltage: 110-220V - Frequency: 50-60Hz - Power: 10W - Weight: 882g
RISK-FREE GUARANTEE
With great products comes great responsibilities! We aim to provide you with a 100% easy, risk-free shopping experience. No matter what happens, we will make sure you're 100% happy with your purchase.